We all know that having a strong immune system is essential to our health, but how do you keep yours in tip-top shape?
Most of us are exposed to thousands of harmful toxins every day. The air we breathe and the food we eat contain chemicals that can weaken your immune system. And if you don't have enough vitamins and minerals in your diet, it's even harder for your body to fight off illness. This causes an imbalance between good and bad bacteria which leads to inflammation, indigestion, nutrient deficiencies, skin allergies, and worse!
IMUGLO's main functions
The immune system should be regulated and strengthened.
Symptoms and problems with the upper respiratory system will be improved.
Colds and flu will be less severe.
Intestinal function should be supported.
Infections and inflammation are reduced.
Assist in the strengthening of skin barriers.
IMUGLO is a combination of two legendary ingredients combined into one formula designed specifically for people who live in polluted environments or have unbalanced diets! It helps strengthen and improve their immune systems so they can stay healthy longer.
Maritech® organic mekabu fucoidan seaweed extract from Australia, Eldercraft® European black elderberry extract from Italy, PUREWAY-CTM ascorbic acid from the United States, and maitake mushroom mycelium extract are the active ingredients in IMUGLO.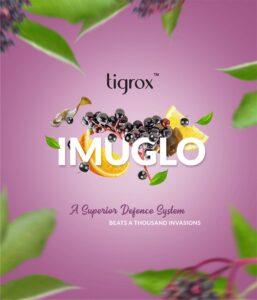 Wellous worked tirelessly on the formulation, which has the potential to improve our immune system. The combination of elderberry extract and mekabu seaweed (fucoidan) is the best solution for boosting immunity that we've found!
IMUGLO CAN BE USED FOR:
Individuals with a weakened immune system
People who have respiratory issues
People who get sick easily and have a lot of infections
Individuals who travel frequently
Senior citizens and people in their forties and fifties
Doctors, nurses, and other healthcare professionals)
People who eat their meals outside on a regular basis
Those who lead an unhealthy lifestyle
FACTS & USES
The sachet should be consumed after opening for best results. Consult your medical doctor before taking this supplement if you have or suspect a medical condition, are on medications, and want more information about its effects/side-effects of using the product regularly with any prescriptions given by doctors in general.
IMUGLO is available from an authorized dealer.