France is a country that has long been synonymous with romance, art, and culture. With its beautiful architecture, stunning landscapes, and world-renowned cuisine, it is no wonder that France is one of the most popular tourist destinations in the world. In this article, we will explore the best of France, including its top tourist attractions, accommodation, transportation, safety, and other travel-related criteria to help you plan your perfect French adventure.
Tourist Attractions in France
France is home to some of the world's most iconic tourist attractions, including the following:
Eiffel Tower – This iconic tower in Paris is the most famous landmark in France and one of the most recognizable structures in the world.
The Louvre – The Louvre is one of the world's most famous museums, home to masterpieces such as the Mona Lisa and the Venus de Milo.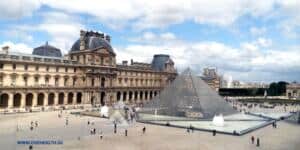 Notre-Dame – This beautiful cathedral in Paris is a masterpiece of Gothic architecture and has been the site of many historical events.
Palace of Versailles – This stunning palace was once the home of French royalty and is one of the most beautiful examples of Baroque architecture in the world.
Mont-Saint-Michel – This stunning island off the coast of Normandy is home to a beautiful abbey and is one of the most popular tourist destinations in France.
Chateau de Chambord – This stunning chateau in the Loire Valley is a masterpiece of French Renaissance architecture.
Pont du Gard – This ancient Roman aqueduct is located in the south of France and is one of the best-preserved examples of Roman engineering in the world.
The Palace of the Popes – This stunning palace in Avignon was once the seat of the Catholic Church and is now a UNESCO World Heritage Site.
Carcassonne – This beautiful fortified town in the south of France is a stunning example of medieval architecture.
The French Riviera – The French Riviera is a beautiful stretch of coastline that is home to some of the world's most famous beach resorts, including Saint-Tropez and Cannes.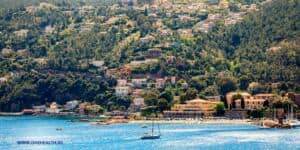 Accommodation in France
France has a wide range of accommodation options, from budget hostels to luxury hotels. Some of the most popular options include the following:
Chateaux – These are often historic buildings that have been converted into luxury hotels, such as the Chateau de la Chèvre d'Or in Eze.
Apartments – Apartments are a great option for travelers who want more space and privacy than a hotel room can offer.
Hostels – Hostels are a budget-friendly option that are popular with backpackers and solo travelers.
Hotels – France has a wide range of hotels, from budget-friendly options to luxury hotels.
Airbnb – Airbnb is a popular option in France, with many apartments and homes available for rent.
Transportation in France
France has a well-developed transportation system that makes it easy to get around the country. Some of the most popular options include the following:
Trains – France has a high-speed train network that connects many of the country's major cities, such as the TGV.
Buses – Buses are a budget-friendly option for traveling around France, with many companies offering services between major cities.
Taxis – Taxis are widely available in France, but can be expensive, especially in major cities.
Rental Cars – Rental cars are a good option for travelers who want to explore France's countryside and smaller
Other Travel-related Criteria in France
Language: French is the official language of France, but many people in tourist areas speak English. However, learning some basic French phrases can go a long way in making your trip more enjoyable.
Currency: The euro is the currency used in France. Credit cards are widely accepted, but it is always a good idea to have some cash on hand.
Weather: France has a temperate climate, with mild winters and warm summers. However, the weather can vary greatly depending on the region, so it is important to check the forecast before your trip.
In conclusion, France is a destination that should be on everyone's travel bucket list. From the stunning Eiffel Tower and the grand Palace of Versailles to the charming villages in Provence and the picturesque French Riviera, France offers something for everyone. When planning your trip, it's important to consider factors such as accommodation, transportation, and safety to ensure a smooth and enjoyable experience. We hope that this article has provided you with useful information and inspiration to start planning your trip to France.
Don't forget to share this article with your friends and family, or even your travel buddy if you're planning a trip together. Bon voyage!
This post is sponsored by Wotif. For your upcoming holiday flights, stays, or travel packages, be sure to visit this link here. This will help us to contribute more travel-related content and tips. Use the discount code "TravellersLabs.com" for added savings.