The maximum group size for those who have been fully vaccinated has been reduced to five.
SINGAPORE – Starting next Tuesday (Aug 10) if people are completely vaccinated, Singapore will allow them to dine in restaurants in groups of up to five. This is the first phase in the country's plan to reopen its economy.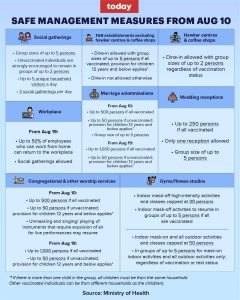 Those who have not been vaccinated but have genuine negative pre-event test results, as well as those who have recovered from Covid-19, will be able to join such groups of five.
The maximum number of people allowed for a social gathering will be increased from two to five, and families will be allowed to have up to five different visitors.
Individuals who have been fully vaccinated will also be able to participate in other higher-risk activities where masks are not required, as well as larger events.
In a news conference, Trade and Industry Minister Gan Kim Yong declared that everyone, regardless of vaccination status, will be able to eat at hawker centres and coffee shops – but only in groups of two.
According to the Ministry of Health, unvaccinated people are allowed to dine at hawker centres and coffee shops because they are open and naturally aired.
Then according to Health Minister Ong Ye Kung on Friday, this softening of measures is achievable since Singapore anticipates roughly 70% of its people to have had both vaccine doses by National Day (Aug 6).
Allowable event sizes and capacity limitations for malls and attractions will be increased nine days later, on August 19, if the situation stays steady.
Companies will be authorized to enable up to 50% of employees who are now working remotely to return to the office at that time.
This preliminary stage, according to Mr. Ong, will last around a month, from August 10 to early September, and is the first of four steps in Singapore's transformation to a Covid-19-resilient nation.
By early September, when roughly 80% of the population has been vaccinated, the country will be ready to go to "transition stage A," as the minister put it.
This is when the economy will be progressively liberalized, allowing for greater social activities and even travel. However, Singaporeans must be mentally prepared for an increase in the number of cases and deaths as a result of this, he warned.
"However, we can do everything we can to reduce the number of serious illnesses and deaths, so it's critical that we continue to vaccinate as many people as possible."
This means Singapore will continue to differentiate between people based on their vaccination status, with a robust system of traveler surveillance testing in place.
What are your thoughts on this? Let's discuss it in the comments section below.