If you're looking for something fun to do this weekend but still want some time alone (or just need a break from your family), then head over to Pasir Ris where there's always plenty of activities going on. From food festivals and carnivals, vintage markets and flea markets- there's something for everyone! If that sounds too crowded or noisy though, then check out one of these quieter Pasir Ris attractions instead.
You'll want to bring your monopod when visiting this list of destinations. The shots are so Instagram-worthy that you won't be able to resist taking some in each one!
Pasir Ris Town Park is a lovely escape in the midst of town. If you're looking for a tranquil getaway not far from the city, this park is highly suggested. It has 14 hectares of well-kept gardens where you can relax in the fresh air.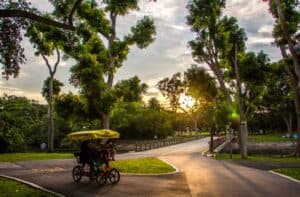 There are several activities for kids, such as pony rides, water sports, a mangrove forest, and a natural bird habitat. It also has one of the country's biggest children's play areas. Children will have a lot of fun playing with the ponies or taking part in water activities like canoeing and kayaking. However, since it is a nature area, there aren't many food stalls so it's a good idea to bring your own snacks.
Pasir Ris Park Connector is a lovely walking path that will take you all the way from Pasir Ris Town Garden into Pasir Ris Park. It has about 2km of lush greenery and benches along the way, so you can sit down to rest or read a book if needed.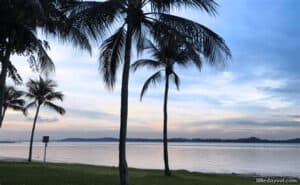 NOTE: If Pasir Ris Park Connector is too strenuous, you can take the Pasir Ris MRT Station Exit B and follow Pasir Ris St 25 straight away into Pasir Ris Park instead. This will lead you to Pasir Ris Park.
2. Wild Wild Wet is the best place to cool off on a hot day or if you feel to get wild and wet, with exciting features like water slides, swimming areas, and adrenaline-pumping water activities. Several rides for children are available, and some shops sell everything you need for a fun day of swimming. Delicious treats are available at the on-site café for both children and adults.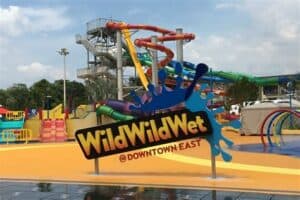 The Professor's Playground, where kids can paddle in a shallow pool, climb on ladders, slide down water slides, run through fountains, and spray each other with water cannons, will keep them entertained for hours. Children can also ride "Yippee!" a shallow pool with play equipment that is suitable for toddlers. Other rides for kids include the "Kraken Racers," where they can zip down a four-person slide while racing their friends to the bottom, and the "Shiok River."
NOTE: Inside the venue, outside food and drinks are not permitted.
Parking is available at Wild Wild Wet or visitors can catch the MRT and get off at Pasir Ris Station, EW1.
3. Pasir Ris Park is a great place to camp.
If you've ever dreamed of falling asleep under the stars and waking up to the sound of birds chirping and the scent of the sea, then this next activity is for you.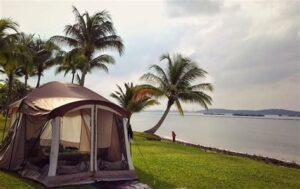 Pasir Ris Park is an excellent choice for your next outdoor adventure. Pasir Ris Park has two areas where camping is permitted: Area 1 and Area 3. Simply fill out an application for a camping permit at any AXS station and get ready to "camp"!
NOTE: Did you know that the park's name comes from the Malay word 'Pasir Ris,' which literally translates to 'beach bolt-rope,' implying a narrow beach?
4. Waterbike SG If you enjoy new challenges, this is something you should think about. Unlike traditional two-wheeled bicycles, the water bike frame is mounted on two large floats that resemble the shape of a catamaran.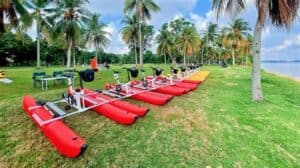 Once you're seated on top of the floats, you can pedal like you're on a regular bicycle. Except for this time, instead of gravel and dirt on solid ground, you'll be gliding through the waves.
The water bike is also non-motorized, making it an eco-friendly way to enjoy nature with your friends and family.
Before you go, book your tickets on the Waterbike SG website and arrive 15 minutes early for your safety briefing.
The following are the prices:
$30 per person for one hour
$50 per person for two hours
$70 per person for three hours
Campsite 1 at Pasir Ris Park, 159T Jalan Loyang Besar, Singapore 506927, is the meeting point.
Saturday and Sunday hours are by appointment only (Between 9 AM-6 PM)
NOTE: Shorts, slippers, and a Dri-Fit or sleeveless top are recommended. Remember to bring sunscreen, sunglasses, and water to stay hydrated.
5. SG Hotel On Wheels A container hotel where you can experience two different styles in one? Sounds like something straight out of science fiction, but it is very real. The Modern Country style is decorated with modern country cues such as earth tones and rustic furniture while the Minimalist Classic has sleek lines that give off an industrial vibe – perfect for both lovers of camping or city living alike!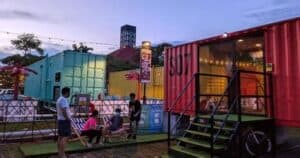 You might be surprised at how complete it is, everything else you'd expect from a typical hotel. Along with air conditioning units and smart TVs, there's also been Google Home installed! The 40-foot rooms even include full-service kitchens: cooks have equipped for everyday cooking needs thanks to induction cooktops as well as microwaves and refrigerators so everyone can stay comfortable no matter what time of year or how long they're staying over.
During the week, rooms start at $188 for a 20ft room and $248 for a 40ft room. While it is unknown how long the roving hotel will stay in this location, SG Hotel On Wheels is currently accepting online reservations from tomorrow until the end of March 2022. This hotel is located in Downtown East @ Begonia Carpark.
NOTE: There are only 10 rooms available in total, and we've heard that tickets are already flying off the shelves, so be sure to book soon, especially if you're planning a stay during the upcoming holiday season!
We hope this blog post helps you plan your Pasir Ris weekend like a pro! Leave us a comment below if you have any more questions about what else is going on in Pasir Ris this week. You can also tell us if there are any other topics like this one that you want us to write about, or just leave a message saying hi 🙂
This post is sponsored by Wotif. For your upcoming holiday flights, stays, or travel packages, be sure to visit this link here. This will help us contribute more travel-related content and tips. Use the discount code "TravellersLabs.com" for added savings.