Review of Lion City Bike Tour
Would you like to ride a bike through Singapore? The tour is perfect for those who want an intimate experience with their surroundings. You will each have your bike, so that way there's no need to wait in line or worry about taking turns riding together!
You can explore Singapore on a bike tour that will take you through the city's charming back streets and historical landmarks. The guide from Bike Around Tour Singapore is knowledgeable about all there is to see in this bustling metropolis, so be sure not only to enjoy your ride but learn some interesting facts as well!

The tour guide from Bike Around Tour Singapore will take you beyond the usual tourist spots into some of this city's most beautiful and interesting aspects to learn about its rich history.
The best way to explore Singapore is by covering many of its hot spots. From the colonial district to little India and kampong glam; there's something for everyone here!
You'll have your very own bike to explore Singapore City at a more intimate pace! You won't find anything like it on any other tour.
We had a blast on our bikes this past weekend! We went to Lion City Bike Tour, which is held at the Nicoll Highway MRT station. The meeting time was 9 am and it only gathered 9 people including ourselves-a small group size that allowed for easy navigation through traffic while riding together as one big family enjoying their trip out into Singapore's sunny weather (and lots more).
The guide Mr. Jeff greeted us all with smiles when we arrived; he seemed like an experienced cyclist who knows his way around town well enough since there weren't too many turns or steep hills during our 4-hour tour–perfect if you're looking forward to getting started
The first stop on our bike tour was the F1 race track and it did not disappoint. This is one of those places you read about in travel magazines or see photos online but never get to experience for yourself.
The F1 race track is one station on this bike tour where you can experience an adrenaline-pumping, unique view. And then we rode through Singapore's unknown neighborhoods – discovering hidden gems along the way that most tourists never see due to their typical route options being limited by transportation availability (e: buses). This was such a good Ayto get off my tourist map without being too mainstream.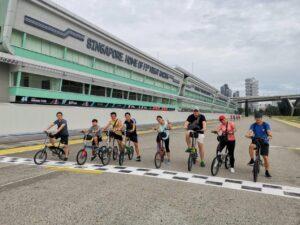 The tour guide was so informative and had a lot of knowledge about Singapore. We were able to take lots of pictures because he is such an experienced person that knows all the ins and outs!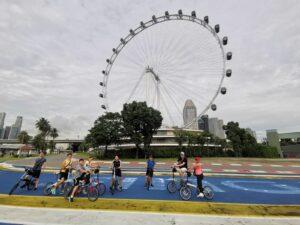 Jeff is an experienced tour guide who takes pride in his knowledge of Singapore. He gives clear introductions to each place, some that are not even Google-able!
You should take these important steps before booking your ride
Register a Shopback Account Get $5 back instantly   (this is also applicable even if you use the SRV)
Register for a Klook Account here and get an instant $5 voucher added with this link here
The tour was tiring but we made it to our destination. Jeff even gave us some sugar cane juice as an end-of-trip treat! Bring water, stretch before you bike out for more energy, and wear a cap because its hot sunny outside…even in December
I did notice that every bicycle came with their backpack place where people could put any personal belongings they might need during the journey–a nice touch indeed.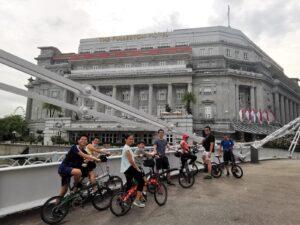 The city of Singapore is an experience like no other. Covering many local hotspots, it's a must-see destination for any visitor looking to get away from the tourist crowds and into off springing!.