If you're in Singapore and haven't tried these 10 dishes, then I suggest planning your food adventure ASAP. You're missing out on some of the best food this city has to offer!
If you don't know where to start with all of the amazing foods available here, we've compiled a list of must-try items that are sure to satisfy any craving. From desserts to noodles, there's something for everyone!
We've created an infographic detailing our top ten favorite local dishes and snacks so that you can experience them yourself while visiting our beautiful island nation. Enjoy!
1. Bak Kut Teh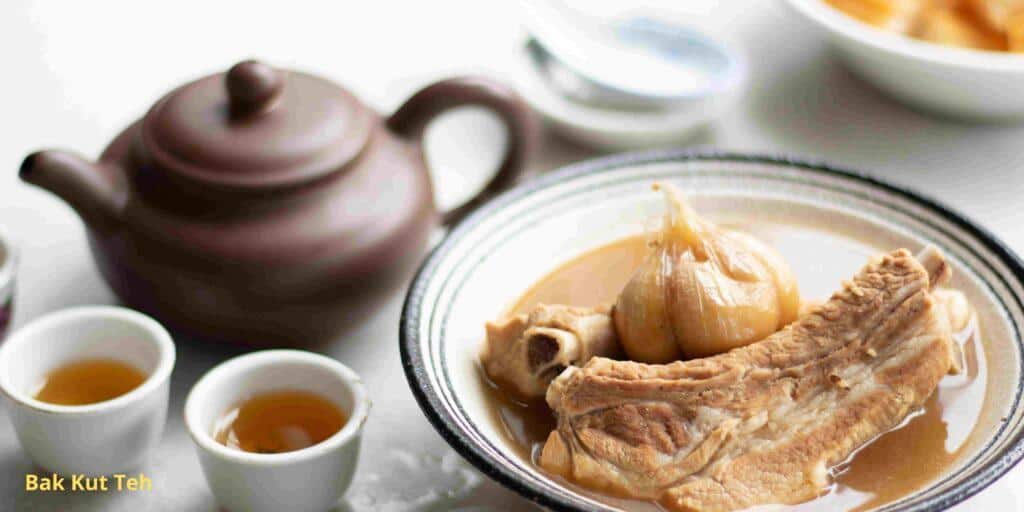 First on our list is Bak kut teh directly means "pork rib tea"; pig ribs are boiled to create a tasty soup base, then blended with garlic cloves and a variety of herbs to make this dish. Fans of bak kut teh adore this dish because of its characteristic herbal aroma.
Bak kut teh is typically served with white rice, dough fritters, and braised pig knuckles on the side.
2. Carrot Cake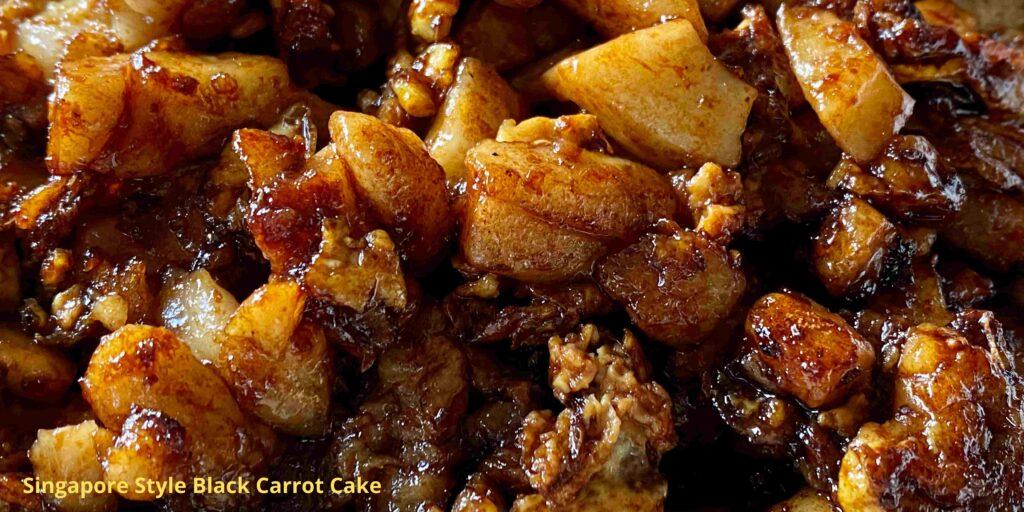 I just wanted to give you a heads up that this dish isn't really dessert and no carrots are involved. Surprising right? The reason why it's called Carrot Cake is that white radishes make up most of its ingredients, which locals call "white carrot."
They make it by mixing grated white carrot with rice flour and water before being cooked into cakes. The eggs, pickled radish, garlic, and spring onion are diced and simmered in a frying pan with these cakes.
Some hawker centers will serve carrot cake with shrimp or sliced mushroom, and all hawker centers will offer you the option of "black" (fried with sweet soy sauce) or "white" (fried without sweet soy sauce) (straight). You can also request a dash of chili powder to give that carrot cake an extra kick, or request that it be slightly scorched, and you will be blown away by the umami flavor!
3. Char Kway Teow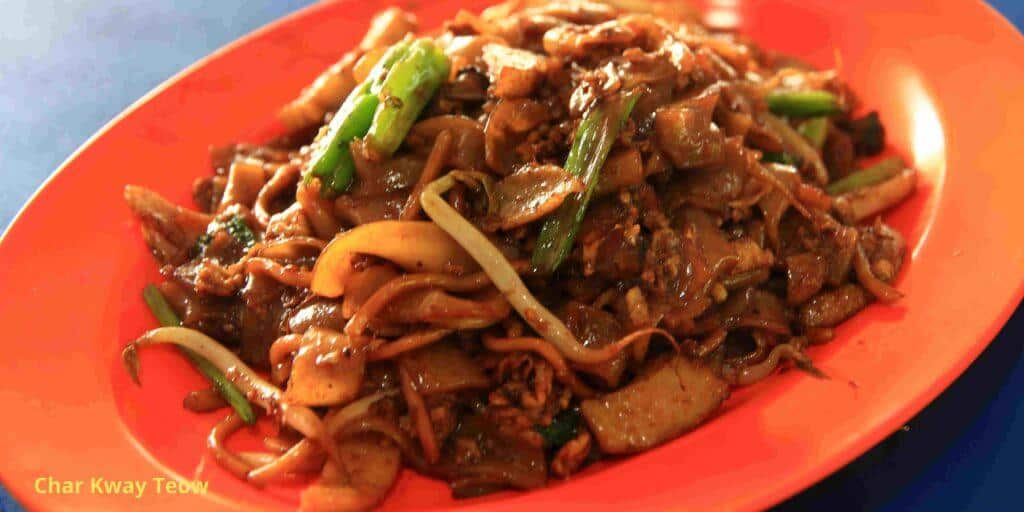 Char kway teow is a fried flat rice noodle dish made with dark soy sauce, egg, Chinese sausage, prawns, cockles, and sliced fish cake, fried by experienced hawkers. Due to the high temperatures and short cooking times required by Chinese stir-fry techniques, this is a dish that should only be prepared by professionals.
With a splash of chile, this meal is at its best. An excellent char kway teow is cooked to perfection, not charred and not oily.
4. Chili Crab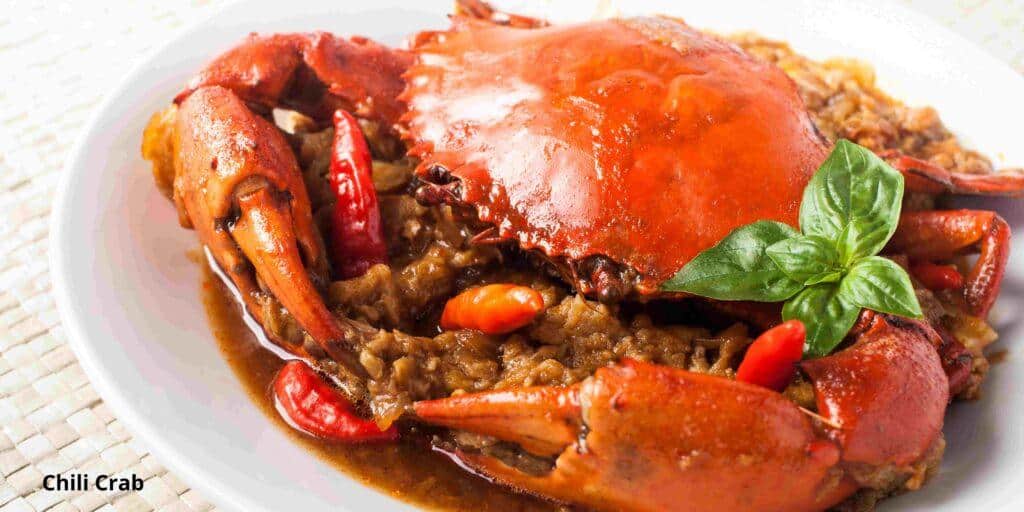 This is Singapore's most well-known dish, a fatty and spicy seafood mix that should be consumed with your hands.
A paste of garlic, onions, ginger, sesame oil, black rice vinegar, sugar, ketchup, and ground chili is used to cook each hard-shell crab. The mixture is thickened with eggs and cornflour until it forms a silky, flavorful sauce that coats a sizzling hot crab in its shell.
5. Hainanese Chicken Rice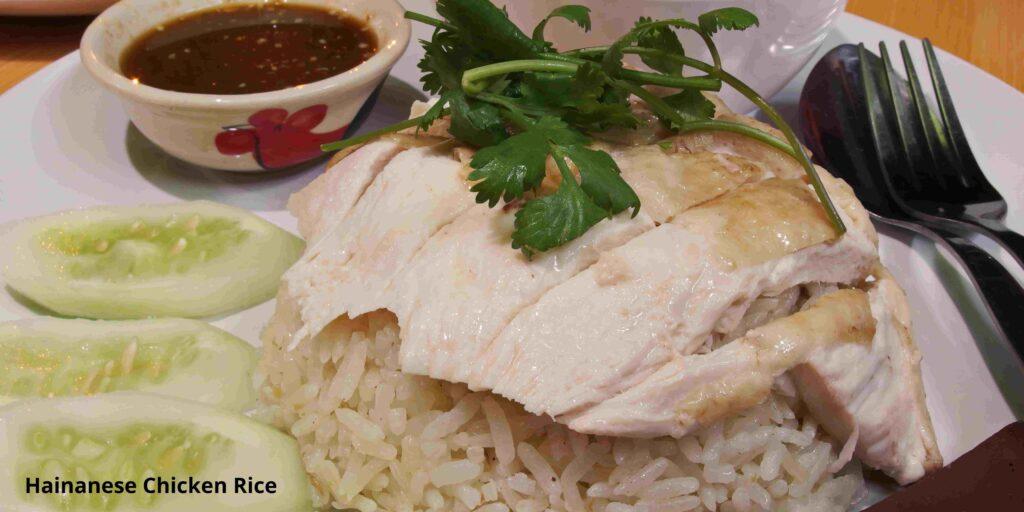 The first meal I had in Singapore was this deceptively flavorful rice dish that has served with ginger mash, chili lime sauce, and sweet black soy sauce. It looked pale but when you took a bite it surprised your taste buds!
For many Singaporeans, chicken rice is the closest thing to comfort food. how they prepare food is Poached chicken in a broth with herbs, garlic, chicken bones, and other spices. After the chicken is cooked, the broth is used to prepare rice with pandan leaves and garlic. Because of the liquids leftover from the chicken, the resulting rice is brownish and greasy.
Chicken rice is normally served with cucumbers on the side, but it can also be ordered with braised beancurd, braised egg, chicken liver, or vegetables in oyster sauce for an additional fee.
6. Satay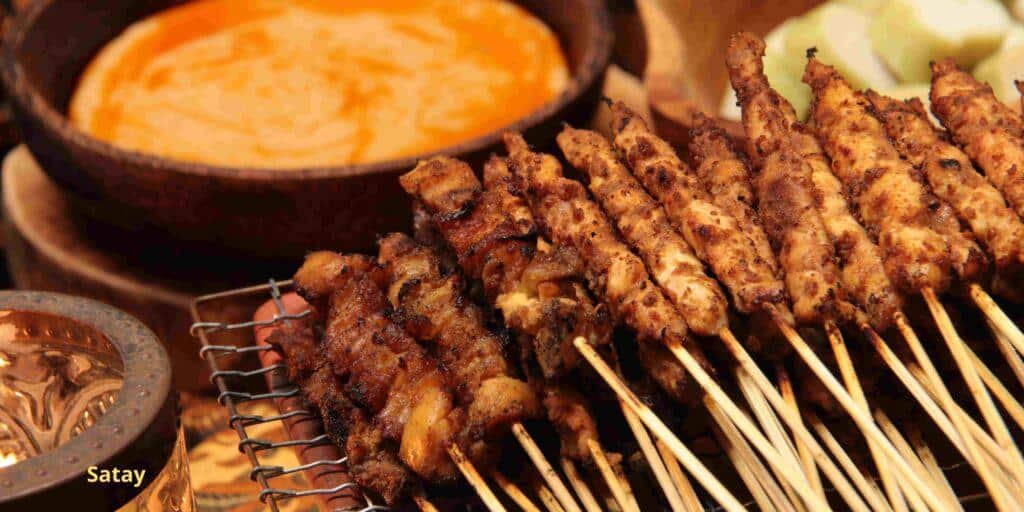 This Asian-style barbecue is one of my favorites. Satay has marinated beef cooked on a skewer, then served with onions, cucumbers, and rice cake alongside peanut sauce. This isn't your typical grilled beef; the marinade and sauce work together to give the meat a distinctly Asian flavor.
Most hawker centers provide chicken, mutton, or beef satay; some Chinese hawkers also offer pork satay, but it's not as widespread. Sweet soy sauce and turmeric are commonly used to marinade satay pork.
7. Laksa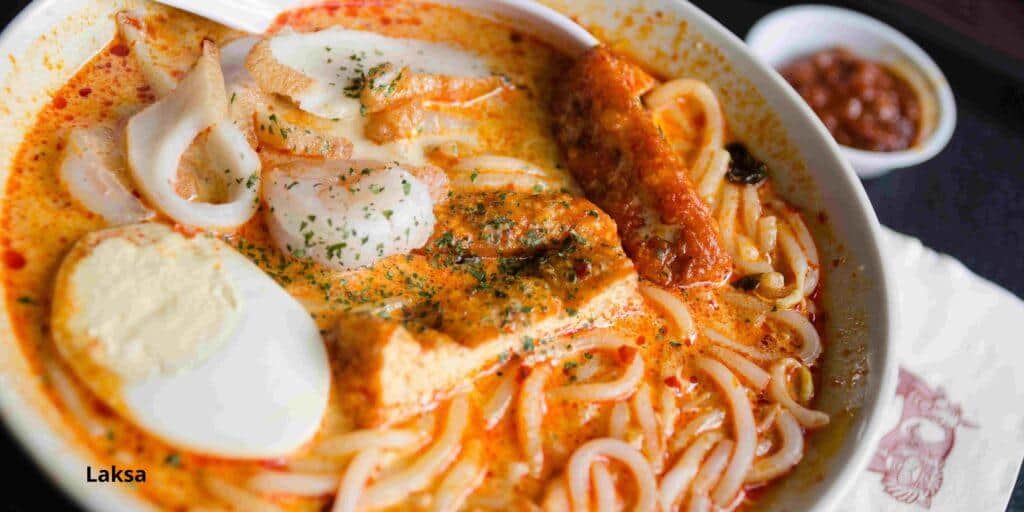 My favorite Noodle Dish Curry. This is a noodle dish with shrimp, egg, and cockles in a coconut milk curry sauce. The sauce is slightly thinner than a traditional curry, and it's topped with tofu and shredded chicken. Lemongrass leaves finish the dish, adding a fragrant touch that no self-respecting laksa chef would overlook.
8. Fish Head Curry
A Delectable Reward for the Adventurous. The less adventurous gourmand may be put off by fish head curry, but the fish head is extremely meaty and tasty, especially when cooked in a spicy red broth made with belacan, pepper, lemongrass, mustard seeds, and onions, combined with tomatoes and okra.
9. Roti Prata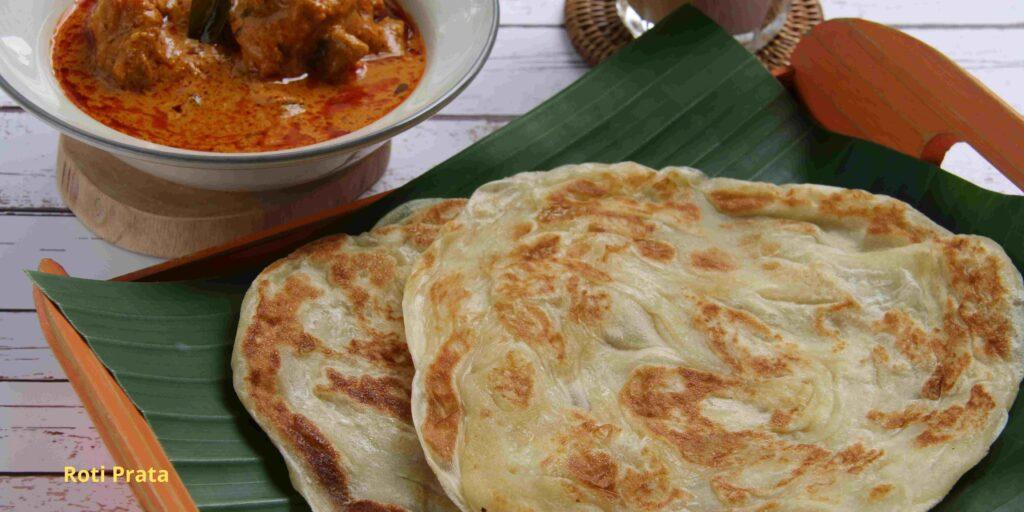 This is, without a doubt, my go-to lunch. It's a simple flour-based pastry that's fried. It's half the fun to see prata being created; a prata chef will flatten the dough before stretching it by twirling it in the air.
After that, the pancake is fried on a griddle, turned to a golden brown, and served. Prata can be eaten sweet with sugar or ice cream, or savory with sardines or curry stew.
10. Rojak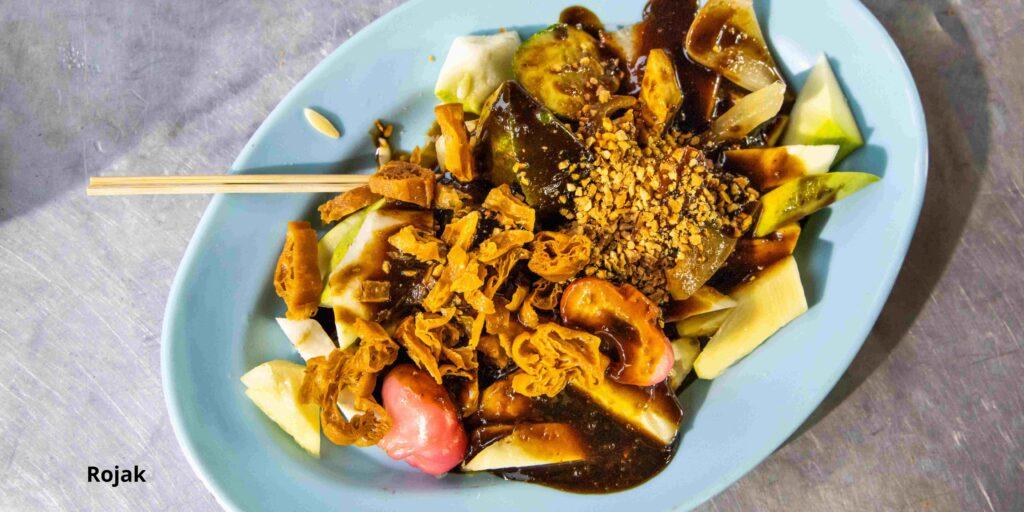 Rojak, a crisp, savory fruit salad made with cucumber, banana flower, bean sprouts, fritters, pineapple, and mango, is a Medley of Flavors (and much more besides). The salad is dressed with prawn paste, tamarind sauce, and chili powder then topped with crushed peanuts. Rojak's blend of tastes is indescribably delicious.
The dish is eaten with bamboo skewers (similar to those used in satay), which you take up one by one and pop into your mouth.
I hope this blog post has made you crave Singaporean food; if that is the case, then I have accomplished my mission. If your favourite dish is not included, please comment below. I would gladly appreciate it, and I could try it in the future as well.
This post is sponsored by Wotif. For your upcoming holiday flights, stays, or travel packages, be sure to visit this link here. This will help us contribute more travel-related content and tips. Use the discount code "TravellersLabs.com" for added savings.