Whether you're a horror movie fanatic or just looking for the perfect excuse to binge-watch your favorite scary films this Halloween, look no further than this list of must-watch horror movies for a spooky and exhilarating marathon.
Whether you're looking for thrillers, gory campiness, or creepy classics, there's something here for every horror fan. Below, we have compiled a list of the best horror movies to watch on a marathon this Halloween. So, get your popcorn and candy ready, because it is time to get scared!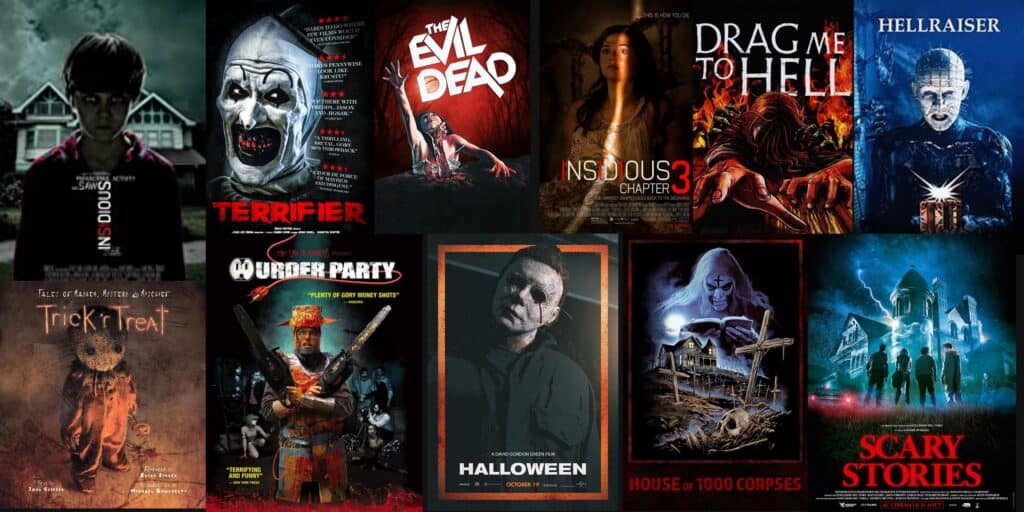 1. Watch Insidious Films in Chronological Order
James Wan's films are not only some of the best horror movies out there, but they're also just plain scary. The story is interesting and will keep you on the edge of your seat the whole time.
List all the Insidious movies in chronological order, so you can marathon them to your heart's content!
Insidious: Chapter 3 (2015)
Insidious: The Last Key (2018)
Insidious (2010)
Insidious: Chapter 2 (2013)
2. The Evil Dead
A classic horror movie that has terrified and thrilled audiences for decades. The original movie, released in 1981, was groundbreaking in its approach to horror, with its graphic and disturbing images. The remake, released in 2013, took horror to a new level with its up-close gore and body horror. Both movies are essential viewing for fans of the genre.
3. Murder Party (2016)
If you're in the mood for a truly dark and twisted comedy this Halloween, then you'll want to check out Murder Party. It's a clever, scathing satire of the slasher genre that will have you laughing out loud at its wicked sense of humor.
4. Scary Stories to Tell in the Dark (2019)
If you're looking for a horror movie that's perfect for beginners, then Scary Stories to Tell in the Dark is a perfect choice. Guillermo Del Toro, a master of the genre, produced this movie, making it the ideal choice for a horror novice. Four adolescents in 1968 come across a collection of Alvin Schwartz's children's terrifying stories mixed together inside an abandoned home. They find themselves living out these stories as they learn the truth about the author, with some of the characters meeting grisly ends.
5. Trick 'r Treat (2009)
This 2009 movie is perfect for getting you in the mood for all the spooky fun of the season.
Featuring four different horror stories, each with its own holiday theme, Trick 'r Treat is full of gruesome antics that are sure to send a chill up your spine. From traditional holiday rituals gone wrong to werewolves and dead bodies, this movie has it all.
6. House of 1000 Corpses' (2003)
This horror movie is packed with gore and neon colors, creating an unsettling and violent experience that is sure to keep you on the edge of your seat. In addition, the unique flair of this movie gives you the impression that you are entering a real-life carnival haunted house, making it all the more entertaining.
7. HELLRAISER Films
To truly appreciate Hellraiser films, it is important to understand their unique place within the broader context of horror cinema. The first film in the series, released in 1987, was a low-budget production that was originally intended for release on VHS. However, despite its humble beginnings, it was given a theatrical distribution, and quickly became a cult classic among horror fans.
Here is a release order for the Hellraiser film series.
Hellraiser (1987)
Hellbound: Hellraiser II (1988)
Hellraiser III: Hell On Earth (1992)
Hellraiser: Bloodline (1996)
Hellraiser: Inferno (2000)
Hellraiser: Hellseeker (2002)
Hellraiser: Deader (2005)
Hellraiser: Hellworld (2005)
Hellraiser: Revelations (2011)
Hellraiser: Judgment (2018)
8. Halloween movies
What would a list of best horror movies to watch at Halloween time be without including the classics? Since it first burst onto the scene in 1978, the Halloween movie series has become one of the most iconic and beloved horror franchises of all time. With its complex timeframes and perplexing retcons, it can be challenging to keep track of which movies should be watched first. However, for true fans of the show, there is no better way to enjoy this legendary series than to dive right in and watch them all in order from start to finish.
Halloween (1978)
Halloween II (1981)
Halloween III: Season of the Witch (1982)
Halloween 4: The Return of Michael Myers (1988)
Halloween 5: The Revenge of Michael Myers (1989)
Halloween: The Curse of Michael Myers (1995)
Halloween: The Curse of Michael Myers Producers Cut (2014)
Halloween H20: 20 Years Later (1998)
Halloween: Resurrection (2002)
Halloween (2007)
Halloween II (2009)
Halloween (2018)
Halloween Kills (2021)
9. Terrifier (2016)
This blood-soaked slasher film follows Agony, a mute psychopath who wreaks havoc on a small town on the most dreaded night of the year. Filled with gut-wrenching gore and tense scenes of suspense, Terrifier is an absolutely terrifying thrill ride from start to finish.
10. Drag Me to Hell (2009)
The movie features great performances from its cast, including Alison Lohman as the protagonist Christine Brown and Justin Long as her love interest Clay Dalton. Both actors give strong, believable performances that help bring this spooky tale to life.
At its core, Drag Me to Hell is a stylish and well-crafted horror film with plenty of scares and jump moments to keep viewers on the edge of their seats. Whether you are a longtime fan of Raimi's work or just looking for a good scare, this movie is definitely worth checking out!
So, there you have it, the best horror movies to watch on a marathon this Halloween! Now all that is left to do is curl up with some popcorn and candy and get ready to be scared!
Did we miss any of your favorite horror movies? Let us know in the comments below and don't forget to share this post with your movie buddy!