Taiwan is an amazing country with a rich culture and history. From its beautiful mountains and beaches to its bustling cities, there is something for everyone in Taiwan. And, with its convenient location and easy accessibility, it's no wonder that Taiwan is fast becoming one of the most popular travel destinations in Asia. If you're looking for an amazing place to add to your bucket list, look no further than Taiwan. Here are the top 5 bucket list-worthy destinations in Taiwan.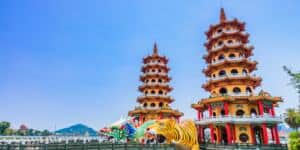 1. Taipei 101: Standing at a whopping 1,671 feet, Taipei 101 was the world's tallest building from 2004-2010. Located in the heart of Taipei City, this skyscraper is an architectural masterpiece and a must-see for anyone visiting Taiwan. Make sure to take the elevator to the top for stunning views of the cityscape.
2. Sun Moon Lake: Situated in central Taiwan, Sun Moon Lake is a beautiful body of water surrounded by lush mountains. Take a leisurely boat ride around the lake or hike one of the many trails for breathtaking views. There are also several temples located around the lake which are worth checking out.
3. Taroko Gorge: Carved out by marble cliffs and turquoise waters, Taroko Gorge is one of Taiwan's most beautiful natural wonders. Take a scenic train ride through the gorge or hike one of the trails for up-close views of the river and gorge. You can also visit one of the many temples located within the gorge.
4. Kenting National Park: Located on the southern tip of Taiwan, Kenting National Park is a tropical paradise with white sand beaches, crystal clear waters, and lush vegetation. There are plenty of activities to keep you busy such as swimming, snorkeling, hiking, and bird watching. Or, if you just want to relax, there are plenty of beach bars and restaurants to choose from.
5. Kaohsiung City: Located in southern Taiwan, Kaohsiung City is a bustling metropolis with a unique blend of Taiwanese and Chinese culture. There are plenty of things to do in Kaohsiung City such as visiting one of the many temples or shopping at one of the markets or malls. And, if you're looking for nightlife, there are plenty of bars and clubs to choose from as well.
Taiwan is an amazing country with so much to see and do. Whether you're looking for breathtaking natural scenery or bustling city life, Taiwan has it all. So what are you waiting for? Start planning your trip to Taiwan today! With its rich culture and beautiful landscapes, Taiwan is the perfect destination for your next vacation. We hope this article has inspired you to visit this wonderful country.
If you have any questions about traveling in Taiwan, please let us know. We would be happy to help! And don't forget to share this post with your loved ones – they will definitely want to go on a trip to Taiwan after reading all of these amazing things about it!
This post is sponsored by Wotif. For your upcoming holiday flights, stays, or travel packages, be sure to visit this link here. This will help us to contribute more travel-related content and tips. Use the discount code "TravellersLabs.com" for added savings.