Are you one of the numerous people who intend to travel to the Philippines once it opens to tourists? Here are some introductions to different parts of the Philippines to guide you with your plans, as this country has a lot of beautiful places to offer.
Let's start with the Philippine Island of Luzon. It is the 15th greatest land area on the globe. Here are a few places in Luzon worth visiting:
1. BATANES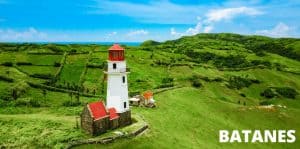 Philippines' smallest and northernmost province. The flight from Manila to Batanes takes around one hour and twenty minutes. Batan Island is home to Basco Airport. Airlines usually only operate one flight each day to Batanes.
Batanes is known as the "Home of the Winds," because of its calm and windy weather, and has kept its postcard-perfect scenery, friendly culture, and simple way of life.
Here are a few of the most popular Batanes activities:
• Discover Morong Beach
• Hike to Mount Iraya
• Visit Basco Lighthouse
• See the Vayang Rolling Hills
• Stroll in Valugan Boulder Beach
• Discover Sabtang Lighthouse
• Take a look at the Tayid Lighthouse.
• Mt. Carmel Chapel or Tukon Church
• Visit House of Dakay
• Explore Naidi Hills
• Take a Snapshot of Rakuh a Payaman
• Honesty Coffee Shop is a must-see.
• See Dipnaysupuan Japanese Tunnel
• Visit the Chamantad-Tinyan Lookout Point.
• Check Out Savidug Stone Houses
• Discover Songsong Ruins
2. BICOL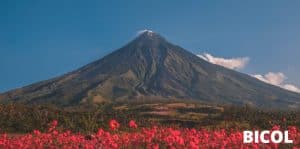 The province of Bicol is known as the Philippines' adventure capital. Volcanic craters, tranquil whale sharks, quiet beaches, and spicy food are just a few of the attractions. The most cost-effective mode of transportation from Manila to the Bicol Region is by bus, which takes 11 hours and 47 minutes. Taking a train and then flying from Manila to Bicol Region takes 3 hours and 24 minutes.
The following are some of the most popular activities in Bicol:
• ATV Tour to Mount Mayon
• Visit Cagsawa Ruins
• Hike the Kawa-Kawa Hill
• Visit Quitinday Hills and Nature Park
• In Sorsogon, go see the Butanding and swim with the fishes
• Climb the Mayon Volcano
• Surf in Bagasbas and Gubat
• Bulusan Lake adventures
• Buhatan River Cruis
3. MANILA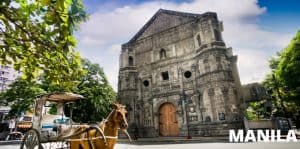 The Philippines' capital, Manila, is located on the island of Luzon. Even though many people pass through Manila, many tourists avoid it in favor of seeing other parts of the island nation. If you're a tourist looking for a place steeped in history while yet embracing modernity at its own pace, this is the place to go.
Here are a few of Manila's most popular activities:
• Binondo: Oldest Chinatown
• Divisoria Market
• Arroceros Forest Park
• Manila Baywalk
• Casa Manila
• Edsa Shangri-La, Manila
• Chinese Cemetery
• Paco Park
• Bahay Tsinoy
• Manila Ocean Park
• Manila Cathedral
• National Museum
Moving on to the next geographical division of the Philippines in the Visayas. While the Visayas may appear small in comparison to its neighboring island groups, Luzon and Mindanao, it is not to be overlooked. Here are a few locations worth seeing in the Visayas:
4. CEBU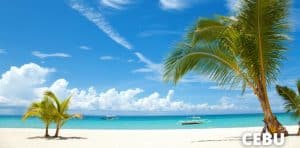 Cebu is well-known for hosting the country's most important festival, the Sinulog Festival. On the third Sunday of January, Sinulog is commemorated in honor of the image of Sto. Niño, or the Child Jesus.
Aside from the Sinulog festival, the island has many wonderful sights to visit, like the clear sandy beach in the south, the glorious crystal water in the north, and even the bright city lights in the city center.
The most cost-effective form of transportation from Manila to Cebu is to book a flight, which takes 1 hour 33 minutes.
Here are some of Cebu's most popular activities:
• Cebu Taoist Temple
• Temple of Leah
• Sirao Flower Garden
• 10,000 Roses of Cebu
• Osmeña Peak
• Kawasan Falls
• Pescador Island
• Oslob Whale Sharks
• Tumalog Falls
• Sumilon Island Sandbar
• Simala Church
• Magellan's Cross
• Basilica del Sto. Niño
• Colon Street
• The Heritage of Cebu Monument
• Yap Sandiego Ancestral House
• Jesuit House of 1730 or Museo de Parian
• Casa Gorordo Museum
• Fort San Pedro
• Museo Sugbo
• Camotes Island
• Bantayan Island
• Cebu Safari and Adventure
• Cebu Ocean Park
• Anjo World Theme Park
5. BOHOL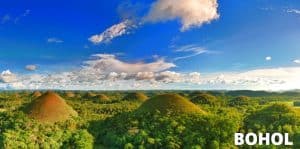 If you're flying through Cebu, you might as well take a detour to Bohol. The ferry ride is only about 2 hours long, making it ideal for day vacations. Expect easier connectivity from Manila and other major Philippine airports now that the Bohol International Airport in Panglao Island is opened. It's simple to go around Bohol. In one day, you can visit all of the major tourist attractions.
Bohol is further known for its festivities and merry-making. And one thing to boast upon is the native mouth-watering delights that are already been recognized worldwide as signature "Boholano Delicacies"
Here are some of the most popular Bohol activities:
• Visit the Chocolate Hills
• Bohol Habitat Conservation Conservatory
• Bamboo Hanging Bridge
• River Paddle Boarding
• Tarsier Conservatory
• Take an unofficial cruise down Loboc River
• Official Loboc River Cruise
• Mahogany Forest
• Cathedral of San Jose
• Baclayon Church
• Blood Compact Monument
• Cambuyo Rice Terraces
• Loboc Ecotourism Adventure Park
• The Secret Waterfall
• Dimiao Twin Waterfalls
• Hinagdanan Cave
• Alona Blue Sailing Charters
• Bike Tour with Anda Adventures
• Go Night Kayaking
• Visit Panglao Island
6. PALAWAN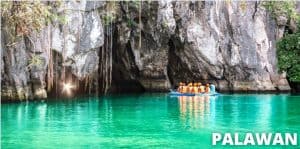 Palawan is often regarded as the "Last Ecological Frontier" of the Philippines. Its forests and oceans support a diverse range of wildlife, and it is this kind of natural beauty that attracts visitors. This is one of the most popular resort spots in the Philippines, with bright blue waters that contrast against the island's karst stone cliffs. It's only an 80-minute flight from Manila.
The following are some of the most popular activities in Palawan:
• Island Hop in Honda Bay
• Scuba Diving in El Nido
• Ugong Rock Adventures
• Beaches of El Nido
• Visit Port Barton
• Tabon Caves
• Baker's Hill
• Palawan Wildlife Rescue and Conservation Center
• Eat Tamilok
• San Jose Market
• Underground river
• Puerto Princesa City Tour
• Tubbataha Reef National Marine Park
• Starfish Island
• Estrella Falls
• Bakbakan Falls
• Visit Tay Tay
• Go Pearl Shopping
• Nagkalit-kalit Waterfall Hike
• Iwahig River Firefly Kayaking
• Simizu island
• Tiki Resto Bar
• Go Wreck Diving in Busuanga Island
• Visit Roxas
• Mitra Ranch Horses
Now we'll go on to the Philippines' final geographical division, Mindanao. Mindanao is the Philippines' second-largest island, and it is still known as the Southern Philippines. In Mindanao, numerous stunning tourist attractions would astonish any traveler who enjoys exploring and having fun. Exploring Mindanao can be a thrilling experience, especially if you're an adventurous person.
7. SIARGAO ISLAND
Siargao Island is regarded as being the best surfing spot in the Philippines. It is one of Mindanao's and the country's most popular tourist destinations. Flying from Manila to Siargao with a stopover in Cebu is an option. When compared to the other options, this flight is less expensive. The trip time, however, is greater. It will take at least 1.5 hours to go from Manila to Cebu. Then it's only an hour from Cebu to Siargao. It will take you 2.5 hours to complete the journey.
The following are some of the most popular activities in Siargao Island:
• Sugba lagoon • Sohoton cave
• Bucas Grande
• Magpupungko Pools
• Guyam Island
• Taktak Waterfall
• Naked Island
• Coconut Mountain View
• Maasin River
• Cloud 9 boardwalk
• Blue Cathedral
• Marine Sanctuary Lagoon
8. ZAMBOANGA
Zamboanga City, often known as "Ciudad de Flores" or "City of Flowers," is a city in the Philippines' Mindanao region.
The average flight time between Manila (MNL) and Zamboanga (ZAM) is 2 hours 55 minutes. Based on past flights for this route, this is the average non-stop flight time.
Here are a few of Zamboanga's most popular activities:
• Merloquet Falls
• Paseo del Mar
• Fort Pilar
• Rio Hondo Village
• Yakan Weaving Village
• Pasonanca Park
• Great Santa Cruz Island
• Little Santa Cruz Island
• Bayangan Island
• Go Island Hopping
• Caragasan Beach
• Nancy Falls
• Canelar Barter Trade Center
• Tagbilat Falls
• La Vista del Mar
9. SURIGAO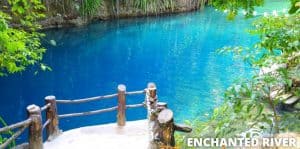 Surigao is the capital of Surigao del Norte province, which is located on Mindanao's northeastern coast. This region dubbed the "City of Island Adventures," is home to 17 panoramic islands with pristine beaches, spectacular caves, rock formations, mangrove forests, and underwater scenery. The travel duration between Manila and Surigao is around 42 hours and 45 minutes, covering a distance of approximately 928 kilometers. In most cases, the quickest journey takes 31h 30m.
Here are some of the most popular Surigao activities:
• Enchanted River
• Britania Islands
• Tinuy-an Falls
• Cagwait White Beach
• San Augustin's Church
• Hagonoy Island
• Bao-Bao Falls
• Mangkagangi Island
• Malinawa Cool Spring
• Libuacan Cold Spring
• San Nicholas de Tolentino Cathedral
• Magkawas Falls
• Hinayagan Cave
• Bislig Baywalk
• Twin Islands of Linungao
• Lake 77
• Canlumawag Falls
• Sian Falls
• Lawigan Beach
• Forester's Park
• Mendezona Falls
• Laswitan Lagoon
• Mone River
• Bodies of Water
• Busay de Mabuhay Falls
• Waterfalls
• Kambawl Falls
• Sibaroy Falls
10. DAVAO CITY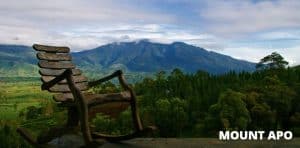 There is something unique about Davao City that you won't find in other parts of the Philippines: a local experience. You won't find as many resorts, western restaurants, or high-priced excursions in Davao because it isn't the Philippines' top tourist destination, but you will find authentic Filipino food, experiences, prices, and interactions. From Manila, the Philippines to Davao City, Philippines, the flight takes 1 hour and 41 minutes.
The following are some of the most popular activities in Davao City:
• Crocodile Park
• Jack's Ridge
• Dahican Beach
• Kopiat Island
• China Town
• Island Buenavista
• People's Park
• Isla Reta
• Maxima Aquafun Resort
• Philippine Eagle Centre
• Museo Dabawenyo
• Davao Museum
• Roxas Avenue Night Market
• Civet Coffee
• Mount Apo
• Eden Nature Park
• D'Bone Collector Museum
• Davao Butterfly House
• BlueJaz Water Park
• Visit Magsaysay Park
• Balut Island
• Philippine-Japanese Historical Museum
• Blue Post's Boiling Crab and Seafood
• Davao Zorb Park
• Eat Davao Dishes
• Marina Tuna Seafood Restaurant
I know I didn't add the city you expected I'll add here since it is a bucket list it must be something different. Is it exciting? Have you considered which one you will visit first once the Philippines is open to tourists? Leave your comments below.
This post is sponsored by Wotif. For your upcoming holiday flights, stays, or travel packages, be sure to visit this link here. This will help us contribute more travel-related content and tips. Use the discount code "TravellersLabs.com" for added savings.