If you're planning a trip to Beijing, China, you won't want to miss out on seeing some of the city's most iconic landmarks. From the Great Wall of China to the Forbidden City, there's no shortage of things to see and do in Beijing. Here are five must-see places in Beijing for first-time visitors.
The Great Wall of China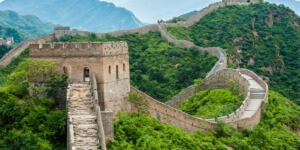 No trip to Beijing is complete without a visit to the Great Wall of China. stretching over 13,000 miles, the Great Wall is one of the most impressive feats of engineering in human history. You can hike along sections of the wall or take a cable car up to enjoy stunning views of the surrounding countryside.
The Forbidden City 
The Forbidden City was the imperial palace during the Ming and Qing Dynasties and is now a UNESCO World Heritage Site. Visitors can explore palaces, courtyards, and temples, and learn about the lives of China's ancient emperors.
The Temple of Heaven 
The Temple of Heaven is a Taoist temple complex that was built in 1420. It's considered one of the best examples of ancient Chinese architecture and design and is a popular spot for locals to gather for morning exercise and tai chi classes.
Beihai Park 
Beihai Park is a beautifully landscaped garden that was once an imperial palace complex. Visitors can stroll through gardens, admire lotus ponds, and visit historic temples. In winter, the park is also a popular spot for ice skating.
Hutong Tour 
A Hutong tour is a great way to get an authentic look at local life in Beijing. Hutongs are traditional alleyways formed by rows of siheyuan (courtyard homes). You can explore hutongs by rickshaw or on foot, and many tours include a visit to a local family's home.
If you're planning a trip to Beijing for the first time, be sure to check out these five places. They are some of the most popular tourist destinations in Beijing and offer something for everyone.
Remember to share this post with your friends and family – they may just be headed to Beijing soon!
This post is sponsored by Wotif. For your upcoming holiday flights, stays, or travel packages, be sure to visit this link here. This will help us to contribute more travel-related content and tips. Use the discount code "TravellersLabs.com" for added savings.